1
« on: October 10, 2011, 06:51 »
Newest version of Microstock Analytics now comes with Keyword Statistics and Keywording Optimization.
Program collects keywords used by buyers to buy your images from Dreamstime (Buyer searched after column) and from Shutterstock (Image Gallery Stats in Darkroom).
Statistics for single file, fileset or selection is displayed in Keyword Sales tab: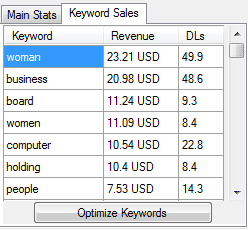 This information can be very useful for optimizing keywording for existing or new files.
New tool allows you to insert keywords and optimize order of keywords, keywords count and add missing keywords. All based on what buyers searched after: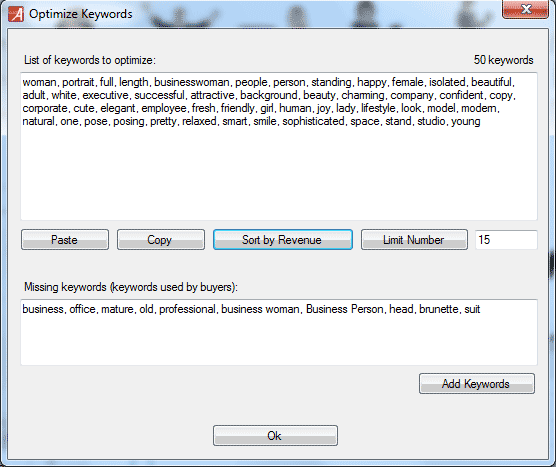 Sort by Revenue
will put keywords that were already used by buyers in the beginning. This is very usefull for Fotolia where first 7 keywrods are most important.
Limit Number
of keywords. Best to use this function after sorting to make sure important keywords will remain in the list. This is very useful for Dreamstime. According to my test I was able to improve placement of my files on iStockphoto by 10% by limiting number of keywords.
Add missing keywords.
This will make sure you not missing any important keywords.
Keywording Optimization works best if you select few similar files first. This can be easily done using search function.
I would like to hear your opinion on how useful you find this feature. Also any optimization strategies you're using that can be implemented in future versions to help you improve/automate this process.